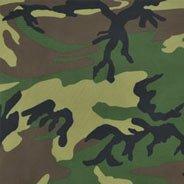 iFabric has an extensive collection of quality camouflage fabrics. Select from our wide range of camouflage stock available in different colors, patterns, designs, and textures. Our collection includes the Camo Fleece print, Camouflage print, Patterned Poly Cotton and Velboa Faux Fake Fur Animal Camouflage Short Pile fabric.
Our camo stock covers everything from the plain camo material to the trendy, upscale, and unusual attention-grabbing fabrics. You can select based on the print, texture, look, stretch and more! All our fabrics are made from high quality materials, making them durable and long-lasting.
Whether you need a camouflage accent in your furniture or upholstery, home decor, apparel, quilt, or crafts, you can choose from our collection of beautiful camouflage fabrics for all your sewing projects.
Select from our camouflage fabric collection for apparels, shirts, shorts, baggie pants, button ups, fitting skirts, and more. It is ideal for bedspreads, pillows, bed covers, pajamas, table linen, and more. It is also perfect for upholstery, quilting and crafts among others.
From the time when camo was used for disguise during battle to its modern-day chic appeal, this beautiful fabric has always been a hot fashion item regardless of the season or weather.
If you want to add that jungle feel to your home decor, accentuate your wardrobe with green prints or add a fabulous signature to your craft projects, choose our versatile camouflage fabrics for your sewing projects.
All fabrics are affordable, durable, long-lasting, and low maintenance. You are going to enjoy these!
camouflage fabric for quilting
army camouflage fabric
pink camouflage fabric
orange camouflage fabric
canvas camouflage fabric
camouflage fabric online