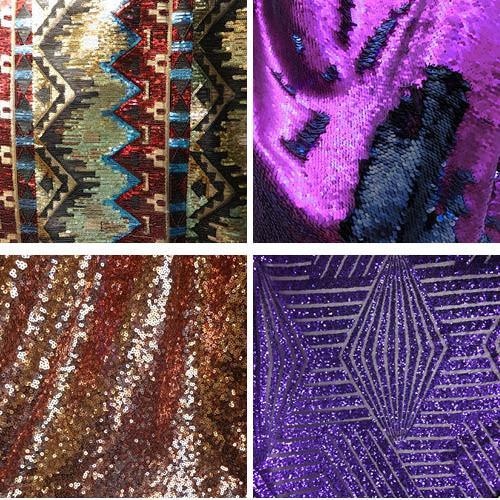 what is Sequin Fabric ?
Add a little glitter to your garments with our beautiful Sequin Fabric. This Sequin Fabric offers a glamorous look making it ideal for women's dresses and decorating your next event. Use it as a backdrop, table covers, pillow cases and much more. Our sequin fabrics are 100% polyester and sold by the yard. Fabric brings you top quality and value at wholesale prices.
Sequin Fabric: 100% Quality Polyester
Fabrics are very common to us as we make use of them more often. The clothes we wear are made of fabrics; the decorations we see at events like wedding are made up of fabrics; table covers, pillow cases, bedsheets are all made up of fabrics. This shows how fabrics are important to us. However, it's not just enough to look out for a fabric, it is also very necessary to look out for quality fabrics. Fabric is a renowned company that offers quality fabrics at wholesale prices which are very much affordable.
 The Sequin fabrics of Fabric are 100% polyester, and a perfect pick when looking for a garment that will add beauty to your appearance and make you the talk of the event. Also, are you looking to organize a big event like a wedding, birthday party or dinner night? Then Sequin fabric is the best decorating fabric material for you. Use it as table covers for the event and experience the glamour it will add to your event. How about at home, are you looking to give your home such look as is welcoming? You don't have to bother any longer. With sequin fabric as your bedsheets, pillow cases, center and dining table cover, you will just get the perfect look you desire.
Reversible Flip up Sequin Fabrics
This is very much perfect for a wedding or evening dress. It is sometimes referred to as the mermaid fabric. It has no stretch and comes in various glowing colours. Aside for wedding dress, this sequin fabric can be sowed into a lovely and sexy looking jumpsuit; it can be fitted as a pillow case for those who love mermaid stuffs.
Mini Disc Sequin Nylon Mesh Fabric
The mini disc sequin nylon mesh fabric is the newest collection of iFabric's Sequin fabric. Being a nylon spandex, mini disc sequin nylon mesh fabric is able to stretch itself a little in four ways. This is what makes this sequin fabric type the best option for table cloths and bed sheets.
Small Confetti Dot Sequin Fabric
This sequin fabric type is sometimes referred to as Small Polka Dot Sequin. It is about the cheapest sequin fabric of the iFabric Company. It can be used for various purposes depending on why you are buying it. It is 100% polyester with shining dots that makes it very much attractive.
Bombshell Stretch Micro Sequin Fabric
The bombshell stretch micro sequin fabric is being sold by the yard at iFabric and is 100% quality polyester material. Its backing is of the nylon mesh, and has a two way stretch quality. It is well designed with beautiful geometric layout and can be used for various purposes. 
The sequin fabrics of iFabric are of a very high quality, and they come at an affordable price. In a bit to give the desired assurance Customers need to them, iFabric offers guarantee on fabrics purchased, and can be reached 24|7 through the customer service.

sequin fabric wholesale
sequin fabric reversible
multi color sequin fabric
large sequin fabric
rose gold sequin fabric wholesale